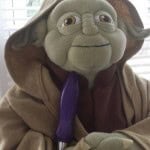 Pros: Small and Discreet Made from body safe materials Water Resistant and Easy To Clean Cons: Lint Magnet One Vibration Mode Only
First Impressions: When I'm bored with reading on the Internet, I've been known to enter a competition or two from well known sex toy companies via their Facebook pages or twitter feeds. A while back I was lucky enough to win a gift basket from Tantus Inc and I let them choose the toys that they sent me. Amongst those toys was a very small and discreet looking vibe called the Secret Whisper. At first glance this toy resembles a very purple Christmas bulb because of it's shape and that intrigued me. My Hubby thinks it looks like a bullet and I can see where he is coming from with that. I liked the packaging because it was bright and cheery but not too much of the bright. It allowed the toy to shine above the packaging and I always like that. Like all Tantus Inc toys this one is made out of a high grade silicone. This particular toy comes in the shiny type of silicone and I have to say did not pass the cat hair test. Within a few minutes of coming out of the package it was attracting many cat hairs and my cats were not in my office at the time. It took me just a few short seconds before I had pressed the base of this toy and as the batteries come already installed all I need to do was push the button at the base of the toy to turn it on. I was immediately impressed by just how quiet this toy is. It lives up to it's name of whisper because that's exactly what it is, whisper quiet! The one downside became immediately apparent at this point as well, you have one speed with this vibe and only one speed. If you're looking for multi-levels speeds and pulses this is not a toy you would not consider but that doesn't man you shouldn't and for a couple of reasons that I will explain later. This is a small vibe it's approx 3.65″ and at it's largest it's girth is 1″ although this is also a vibe designed for clitoral play, so that was not something that I personally worried about it. What I was more concerned about was the power level that this small vibe could deliver. There really is only one way to discover that so I grabbed some of my favorite SpunkLube and began to get to work.
Solo Test As I said previously the Whisper is designed to be used clitorally and I have to say it does a more than adequate job of that for me. Considering the size of the vibe, it didn't take me long before I was doing anything but whispering. I like the fact that I could use the slim pointed end to really pinpoint where you wanted the fairly intense vibrations, or you could use the broader middle section for a more all over sensation. I like options in my vibes so it was a little disappointing that this is a one note vibe, but it did get me to orgasm and that is what it is designed to do.
Partnered Test There are times when you are doing the horizontal tango that you need noting more than a one note vibe to push you over the edge and that's exactly what the Whisper did for me. I like the shape because it was easy to push between two bodies and not being huge it still allows Hubby easy entry. The Whisper did nothing for Hubby as he likes a stronger rumbly vibration or with alternating pulse pattern  but it still worked for us during partnered sex.
What's It All Add Up To? If you're looking for a small clitoral vibe then the Whisper is not a bad choice. If however you are looking for something that can offer you a variety of options when it comes to vibrations and pulses this is probably not the toy for you. This was my first foray into Tantus toys and I have to say I was very impressed with both the product and the company as a whole. The Whisper offers what it promises a quiet clitoral vibe that is also body safe and in my book that cannot be a bad thing.
You can purchase your own Whisper by clicking HERE or on the banner below…


[starthumbsblock tpl=25]