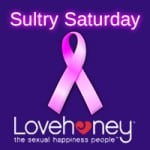 This piece was written and and entered into a competition hosted by: beckandherkinks.Com called Sultry Saturday. Before or after you read it please take a moment to hop on over to Becks and see what all the fuss is about…
Aware
Written By CliticalJenne
David had been dating Chris for about a year now but sometimes it felt like an eternity. He was slowly becoming convinced that she was a witch of some kind or another, after all, no women could tease him like she did and not be. Chris was everything he wanted in a woman, seductive, charismatic and he loved her two biggest assets, which were the things that had attracted him to her in the first place. Yes, she had a great face, nice ass and a wonderful figure but he couldn't help but smile every time he thought about her boobs.
Those big, wondrous globes that seemed to smile at him every time he was in her presence. Of course, Chris didn't feel quite the same way about them. If the truth be told, all she actually did was moan about them. He got that they made her backache, that she couldn't find bras the right size, and that she was always worried that a guy would never look past them, but God darn, which ever way he looked at them they always seemed just perfect to him.
He loved nothing more than to play with them, to tease them, squeeze her glorious nipples till she squealed with delight or protested depending on her mood. He loved to take them in his mouth, feel the point of her nipples as he rolled his tongue around them, and all but get lost when he placed his head between them. He could feel himself, getting hard at the thought of them, of playing with them again tonight.
He heard the bedroom door open and in she stepped. She was dressed for the occasion and he felt the bulge beneath his pants harden as he looked at her. Those amazing assets were neatly tucked beneath the thin material of a lacy white bra, but like him where beginning to strain against the fabric for release. He moved towards her his hands eager to feel the breasts that were tantalizing close, but still not quite within her reach. She stepped back, much to his disappointment, pushing him onto the edge of the bed as she did so.
What she did next astounded him! She reached around and undid her bra strap herself. She stood in front of him in only her white lacy panties and began to play with her own breasts. Teasing him with her big blue blues, rolling her fingers around her nipples. He felt his tongue move across his lips in an involuntary licking motion, as he watched her skillfully squeeze her own orbs, feeling every inch of flesh, before hoisting one nipple upwards and rolling it around her own lips. He all but shot his load right then and there! Somehow, and he had no idea how, he managed to stop the flow that threatened to rise like a volcano and erupt.
His eyes grew bigger as she squeezed, licked and generally titillated him with the objects of his desire. This was the first time she had ever been this open about displaying her breasts even in the privacy of their own bedroom. If she hadn't of opened up and told him the other night, when he had caught her looking at old pictures of herself, he would never have guessed her secret. As they'd sat there that evening and she had been more open with him about her past than ever before he might never have realized the object of his desire and the reason that she obsessed over them, but so many times in a negative way.
As he sat on the edge of the bed and marveled at her celebrating her own sexuality, it was as if that conversation had revitalized her. Made her realize that he loved her no matter what her past had held, the present and future where what really mattered to him. He didn't care that the breasts that she was running her hands over three inches from his face had been reconstructed after she had been diagnosed with breast cancer, he just marveled at them and more than that he marveled at the fact that her journey had ended with her finally realizing that surviving breast cancer was a reason to celebrate her sexuality and her new assess, rather than hide them away as she had been trying to do for the past year. She was finally free and so were those big, beautiful, glorious orbs and he wanted nothing more than to bury his head in between them, and marvel at the wonders of modern science!!!
[starthumbsblock tpl=25]