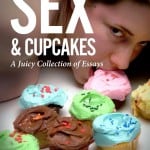 When the awesome Rachel Kramer Bussel to be part of the book tour for her new book. Sex and Cupcakes I jumped at the chance. If you've followed Clitical for any length of time you will be familiar with the many and varied erotic books that Rachel has edited, and I have had the honor of reviewing.
The book Sex and Cupcakes  differs in many ways from those other books because this one is both personal and written exclusively by Rachel.  I reviewed it a couple of weeks ago and you can read that review HERE. I will tell you that my favorite essay in the entire collection of nine was entitled, 'My Boyfriend is Fat.'  This like so many of the essays spoke to me on a personal level and not just as a piece of writing that was written to make a point. This was  a personal essay of the most personal type.  Here is the opening paragraph for that essay and hope it gives you a taster of what is to come as you read further:
"Your boyfriend is wonderful," my cousin told me over a private dinner, then leaned in closer. "I love how he treats you. He gets you." Big pause. " But I'm concerned about his size and that he gets out of breath easily. Aren't you worried about his weight?"
It wasn't a question so much as a command: You should be worried about his weight, a sentiment that's been expressed by friends and family members. She's right — my boyfriend is wonderful, and he is fat."
What follows these words you will have to purchase to the book to read and hopefully start to look at the size issue in a slightly different light.
You don't just have to take my word for the fact that Sex and Cupcakes is an awesome book though. This book is full of personal and heart felt words and you can take a look at what others thought of the book by clicking HERE and seeing who else is on the Sex and Cupcakes blog tour.
You can also purchase your own copy of Sex and Cupcakes for the Kindle simply by clicking  HERE!
Or from I Tunes by clicking HERE.