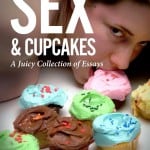 I love sex and I love cupcakes, and I don't know anyone that doesn't. Unless of course your partner is busy eating a cupcake whilst you are trying to have sex with them, which can, I'm told, lead to divorce and much worse, but I digress.
Back to the matter in hand, which is unfortunately not a cupcake, but it is a book that combines both past times. Sex and cupcakes, is a collection of essays that have been penned by the wonderfully talented Rachel Kramer Bussel. I'll admit when I first read the title I immediately understood it. I've been lucky enough to hang out with Rachel a few times, and we have shared cupcakes, donuts, and scary stories of erotic writing during those times. Oh, and we may or may not have thrown some brownies into the mix too, but I will never tell!
I read a lot of essays as part of the research I do for Clitical. Most I skim, some I love, and others I just scoff at. So when I settled down one evening to read Sex and Cupcakes, which is a collection of personal essays I wasn't entirely sure what I was getting into. I'm glad to report that after reading just a few of these essays I was enthralled.

Sex and Cupcakes contains nine essays all of which are well written, thought provoking and above all else, honest. The subject matter ranges quite a bit and offers something for everyone. From trouble with orgasms, to champagne sex and everything in between Rachel managed to capture my attention with them all and more importantly hold it. One of the things I didn't expect when I started reading this collection was how hard some of these essays would hit me emotionally.
The essay that hit me the most from a personal point of view is entitled, 'My Boyfriend is Fat.' As the wife of a portly middle aged man (ok, he's fat), I felt for Rachel, and understood every word she wrote. The stupid comments that people make, the judgements that people (who should often know better) make. Although our circumstances are different in someways there were so many things she said through the words on the page that simply made me go, yes, that's it! Why DO people say that? What does give people the right to judge? The fact that it's often close friends that are making the judgements does not negate the fact that they are verbalizing what others are probably thinking. What really struck a cord with me, was that it was obvious that these words were written from the heart. This wasn't some pat essay telling me to keep my mouth shut, and just suffer the judgements that others make. This essay made a statement, and came from a perspective I've not seen before, that of the fat person's partner. We get judged just as much as our partners about our choices, but it's something that is rarely considered from that point of view if ever. Refreshing and hard hitting at the same time. I'm not ashamed to admit I found myself in tears after reading this particular essay.
Another essay that I personally enjoyed very much was 'Sex and Cupcakes.' Those of us that choose to write about sex are often put into an imaginary box. Rachel is honest about this and how it's often negatively impacted not only her life in general but her dating life in particular. Women who write about sex are often defined by that fact alone and that is a pity. Rachel's answer is her love of all things cupcakes, which she also writes/blogs about. It's much easier to tell people you blog about cupcakes than sex when you first meet them, after all. I could relate to this essay and many of the thoughts that Rachel brings to the table here.
Rachel manages to put the personal back into essays in a way that stays with you long after you finish reading them. She also allows us, as the reader, a very personal glimpse into her fascinating life that is as diverse as it is fascinating, titillating, and complicated. If you think that personal essays are boring, this book will make you reexamine that assumption.
You can purchase your own copy of, Sex And Cupcakes by clicking HERE!
[starthumbsblock tpl=25]