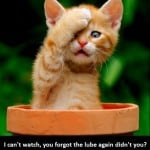 This giveaway has now ended and the winner was: Karen Blue
In case you weren't aware August is officially National Anal Sex Month. Whilst we have no idea who decided this was the month for all things anal, we do want to help save your ass from a world of hurt should you choose to indulge.
If there is only one thing you remember this month, make sure it's the three 'L' rule: Lube, Lube and more Lube… Fact is you can never have enough lube when you decide to partake in some anal fun this month…
With that in mind we have teamed up with the wonderful guys over at Spunklube and one lucky winner will receive an 8oz bottle of SpunkLube Premium Silicone Lube this month! If your not familiar with Spunklube we have that covered too. Take a look at Jenne's review HERE.
So save your ass and enter today!