First Impressions:
I was contacted by the Igino team when this was just an idea, and was asked to review it once they went into production. To say I was intrigued by their sketches and ideas was probably an understatement and having never been one to shy away from a new idea, I jumped at the chance.
As anyone who has read my previous reviews knows, I have a love hate relationship with sex toy packaging. I'm happy to report this was one of those love moments. When I took the Igino from it's brown packing box and saw a white and pink box, that did not scream sex toy at me I was more than happy, but as I explored further it got better. I did love the fact that the Igino was not only boxed but also shrink wrapped, giving it that extra air of quality that I appreciate. If I am going to buy a top end sex toy, I expect top end packaging and this is what I got!
One unwrapped I was presented with a toy, unlike any I had encountered before. It didn't look anything like a conventional penis shaped vibe, instead this more resembled an electric shaver, or perhaps an I Pod, all white and pink and shiny! I dug a little deeper into the box and found a travel bag, some accessories, and a USB cord and plug, from where I was sitting it seemed like Igino had thought about just about everything I would need.
The Igino itself as I said, resembles an I Pod and measures in at 2" wide, 4" long and about 1/2" in depth. It fits nicely in the palm of my hand, and I for one like that. On closer examination, I discovered that nestled within the bottom of the Igino was a built in USB, that required no more than me simply flipping it out use it. Simply plug it in and let it charge up, which is exactly what I did. The instructions that came with the Igino informed me, that this need a 12 hour charge, so I simply left it plugged into the wall charger over night and the next morning I was ready to get down and dirty.
Solo Test:
To access the actual part of the Igino one that you will be playing with you simply flip the cap off. So far, so good. The Igino is operated by flicking a single switch on the side and the business end of the Igino then, gets to work. When I agreed to review the Igino it was because it was in part because it promised something different from the normal run of the mill vibes, instead of the usual vibrations the tip of the Igino actually moved from side to side, in a kind of flicking motion. This is supposed to simulate the movement a woman's finger makes when she masturbates. All I can say is I wish I could move my fingers that fast!
The Igino one is a powerful little vibe that delivers quite a punch. I actually found it too powerful for full clitoral contact at first and elected to use a couple of different methods to counter this. One was to wear a pair of panties, cotton, I find works well for this. The other was to use my labia as a shield of sorts, I run, the point of the Igino across the outside of my labia and I found this took the edge off the power enough to make this a comfortable and more enjoyable experience. It seriously didn't take long before I was on my way to blissful orgasm, when I used the Igino this way.
One huge drawback, I discovered immediately in the Igino, is that it loud, and when I say loud, I mean loud. Not only does it resemble my Hubbies, electric razor in shape, it sounds like it too! Personally, I don't care about the noise too much, but if you are looking for a discrete under the cover, in the dorm vibe, you might want to rethink it.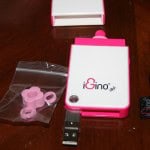 Partner Play:
Hubby enjoyed playing with Igino One as well, but he found the motion a little too intense for his liking. This actually speaks volumes as he generally requires a stronger vibration, but it was a little too much vibration for him and he seriously wasn't keen on the noise either.
We found that despite its small size the Igino didn't work as regards partner/penetration play as much as we hoped it would. This partly because the vibrations are so strong, but also because it's almost impossible to place it in the right position and keep it there. We did have fun, playing and sharing with it though and at the end of the day, that's all that really matters!
What's It All Add Up To?
Lets start with the negatives for Igino One as it stands right now. It's not waterproof, and one way to use a noisy toy is to use it in the shower as the sound of running water generally disguise the noise quite well. The noise, while not an issue for me personally, probably would be for a lot of people. The other thing that I found mildly irritating is that the Igino requires 12 hours for a full charge, and will then only give you 40 minutes of play time. All these negatives are things that I know can be addressed in the future and I'm sure they will be.
On the plus side: I love the concept of the Igino One. It's a concept that works, in that the motion this vibe produces is much more powerful than that of many other vibes of similar size on the market. The Igino One also gets an A+ when it comes to packaging, always a good thing in my book.
I have to end by saying that despite the negatives I have listed, these are all things that can be easily fixed in future revisions and I personally enjoy using the Igino One, and it sure gets the job done!
You can order the Igino One Vibrator by clicking HERE.
[starthumbsblock tpl=25]