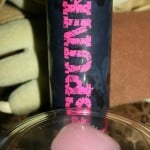 This months giveaway is: SpunkLube Pink
This months winner and soon to be proud owner of an 8oz Bottle of SpunkLube Pink is: TJTheMadHatter.. . Congrats TJ.

The best thing about SpunkLube Pink is that it is designed with women in mind. There has been some evidence presented over the years, that many women are sensitive to glycerine. SpunkLube Pink contains no glycerine so it is not only great for sex, it is good to you body. Add to that the fact that SpunkLube Pink also looks and feels like well Spunk and you are getting into a win/win situation.
This month we have teamed up with the awesome guys and girls over at SpunkLube to offer you the chance to win an 8oz bottle of SpunkLube Pink. You can find out more about SpunkLube and what Jenne thought of it, by reading her review HERE. Entering is easy and the giveaway runs until midnight EST on the 31st October. So what are you waiting for? Go enter now….