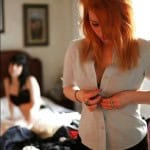 I've been busy writing some more Flash Fiction this week, as well as working on my book. This weeks FF challenge was to use the photo as inspiration and to keep within these guidelines:
Key Words – Aftermath, Regrets  Word Limit – 250   Forbidden Words – BFF, Girlfriend  Bonus Words –Earn 25 for making them co-workers, 25 more if one reports to the other.
No Regrets

Shelbie was my boss but she was more than that. She was my constant fantasy companion. I saw her not only in my office but also in my dreams. The phrase stiff upper lip was invented for her. Her form, so tight and prim and proper, never a hair out of place, that was until that night!
That night, the night we celebrated her promotion and both drank too much. She'd staggered back to my place, we laid at opposite ends of the bed and giggled. It started with a quick rub of my feet. Her hand traveled up my leg, found it's way to my inner thighs and before I could say no, she was feeling the slickness between my thighs. Part of me wanted to run, but the sensations her creative fingers were creating where impossible to resist. I laid there legs open taking the pleasure she was freely offering. Her hands were quickly replaced by her tongue. My delight at her touch was heralded as my head exploded into bright light. I returned the favor and within a few minutes she was no longer my Boss, or in my fantasies, instead she right her with me. Each of us taking out pleasure from the other.
The following morning, I work up to see the words No Regrets sprawled across my mirror in bright red lipstick. No words have ever been spoken about that night. No words were ever needed.
If you enjoyed my flash fiction piece please take a moment to pop over HERE and see what other writers dreamed up!  You won't be disappointed!