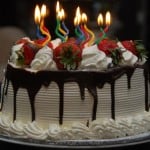 I love flash, flash fiction that is!  So when I discovered a new site that is full of flashers I couldn't resist playing along and writing my own flash as part of a challenge they put out. What follows is the result of that challenge.
A Match Made In Heaven
You thoughtfully gather the utensils you need. Something to beat me with, something to whip me with, a rather large wooden spoon, a host of other ingredients. So it begins.
This is not something that you enjoy don't doing, but you do it because you love him. You start by picking up the wooden spoon and bring it down on me with more force than you really need too. Again and again, that wooden spoon beats me until you feel that I am ready. Now you leave me to rest before you return once more and place me where you will achieve the desired results. Instead of beating me this time you pay me due care and attention, tenderly moving me to my allotted place, and here I wait.
After some time you come back to check on me, I have risen like a mountain from the valley, and a smile spreads across your face as you check me once more. You pod and poke me, to what end I'm not sure but I stand tall. I can tell that you are satisfied with your handiwork, as you stand back and admire me. Now you let me cool off, occasionally checking that I have not fallen and am still standing proud. You are not disappointed.
Now the mood changes once more as I watch you pick up the whisk and begin to whip her. With each turn of the whisk she comes alive. I want her, I want to rescue her, to feel the softness of her form against mine. I strain as she approaches, and begins to sprawl out over me, her softness enveloping me I can taste her sweetness as we become one. Then we are joined by another. I can't see them, but I can feel them as they press firmly against her velvet form. I'm sure there are more now, but I can see or think of nothing but her. She feels so good against me.
Suddenly the spell is broken by screams of jubilation: Happy Birthday Kev, they call out as the light come on again and a large knife pokes us free from our perfect love nest.
[starthumbsblock tpl=25]
If you enjoy Flash fiction make sure you hop on over to EverydayKink.co.uk and checck out all the other flashers!