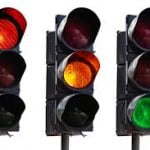 I love to play along with memes and this Wednesday as with many other I decided to take part once more in the Wicked Wednesday meme. This week the prompt was to write a story based around traffic signals. Below is my interpretation in flash fiction. I hope you enjoy it.
Red:
"Stop! Are you really sure this is what you want?"
"Yes, we've talked about it long enough it's time we did something about it," she uttered, whilst giving Neil a knowing glance. "Plus how could I resist the charms of Dave?" She said as her hands slowly and delicately glided over the supple body that was lay between them. She smiled at the young man and Neil nodded. It was all the encouragement she needed.
Amber:
As Neil watched his wife's hand expertly explore her new lovers chest, he felt pangs of green jealousy surfacing. Yet as their lips met he could see in her eyes the excitement of taking a hot new stud to bed. Her nipples were as erect as his cock, and both of them were living in this one moment. He watched as his wife took the younger man's hard, pulsing cock between her lips and he sighed. He could smell her excitement in the air as it mingled with the unfamiliar cologne of her new guy. In one swift action she devoured his cock, no pretense, the rawness of lust palpable in the air that surrounded them. After several minutes, he watched in awe as his wife, his prissy little wife, straddled the younger man's large and girthy cock before taking it into her. Her face lit up as she took her pleasure, not a care in world, her only objective to reach orgasm, whilst impaled. She held her breath before letting it go sharply as her orgasm thundered through her body.
Green:
He didn't need any more encouragement from her as her familiar lips met his. He no longer questioned the decision of having another join them in bed. Looking at her face, seeing the enjoyment and pure lust in her eyes were all the signals he needed to enjoy this experience. Enjoy something that they had talked about for so long now, and he was about to reap the rewards as he filled her with the familiar feeling of his own cock. He looked at her as she took him, and smiled.
"Somethings are worth the wait!" she whispered before letting out a roar as once more she orgasmed.

If you enjoyed my attempt at flash fiction, please take a moment to click on the banner above and visit the other amazing stories that make up Wicked Wednesday.