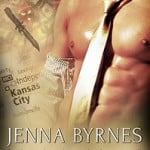 Erotic author Jenna Byrnes says in an ideal world, she could use more cabinet space and more hours in a day. She'd also fill the kitchen with gadgets her husband purchases off TV and let him cook for her to his heart's content. She'd also breeze through the days adding hours of sleep, and more time for writing the hot, erotic romance she loves to read.

Jenna thinks everyone deserves a happy ending, and loves to provide as many of those as possible to her gay, lesbian and hetero characters. Her favorite quote, from a pro-gay billboard, is "Be careful who you hate. It may be someone you love."
1. When did you first realize you wanted to be a writer?
Lots of authors will tell you the same thing, as a kid. I started when I was about ten years old writing romance as I envisioned it in my head. My first heroine had thirteen children because choosing names was so much fun! (I still love picking just the right character names.) My first 'novels' were written on notebook paper and bound with yarn.
When I was about thirty I picked up the craft again but it would be another fifteen years before I was published. It's been a long, interesting journey!
2. How long does it take you to write a book?
My goal is 1000 words a day which allows me to complete one short novel for Totally Bound per month. My longer works are about twice that at 60K and for those I allow two months. I'm pretty rigorous with my goals but if I miss a day during the week I don't sweat it, because I can write more on the weekends.
3. Is this your first book? How many books have you written prior (if any?)
At last count on my website I have roughly 76 titles that have been published and/or will be published in 2015. I've co-authored three series with my friend and fellow author Jude Mason, and my count includes those books.
4. What are you working on now? What is your next project?
I wrote six books in my m/m Kansas City Heat series this year and have six more planned for next year. I also wrote two ménage titles for my Rose & Thorn Society BDSM series and would like to do two more next year.
5. How did you choose the genre you write in?
I started reading straight m/f erotic romance about ten years ago and while I still enjoy that, I prefer to toss some BDSM in the mix for more excitement. When I discovered gay erotic romance I simply went crazy for it. It's absolutely my favorite genre to read and write.
6. If you only had one word to describe yourself, what would it be and why?
Loving. I hope that's a trait people will remember me for, especially my children and grandchildren.
You can find out more about Jenna by visiting her website: JennaByrnes.Com
Jenna's latest book is Taylor's Task and this is book four in her popular Kansas City Heat Series.  Below you will find an except from that book!
Jeff sighed as Reese inserted a third finger into his ass and worked it back and forth.
His lover murmured, "Yeah baby, hot and tight. The way I like it."
He thrust his ass backward, begging for more.
Reese chuckled. "Want another finger—or something else?"
With his hands against the tiled wall he panted, "Want your magnificent cock."
"Mmm, I want that too. I missed you so much." He replaced his fingers with a thick
cockhead. "Here we go, lover. Hang on."
He gasped as the huge bulk invaded him. As usual, a few moments of discomfort were soon replaced by the most amazing feeling of heat and fullness. "Yesss," he hissed, fighting the urge to jack himself off against the shower wall. "Damn. So good."
"Fuck yeah. Fuck yeah." Reese chanted in time with his thrusts, his words slipping into incoherent mumbling. "Ah, I'm close. Feels too good. Been too long."
"Come on," Jeff encouraged, anxious to feel his lover's shattering explosion. "Come for me. Give me all you've got."
With a long, drawn-out moan, Reese climaxed, shuddered and shook, then rested his face against Jeff's back while he got his breath.
"Feel good?" Jeff smiled over his shoulder.
"'Good' would be an understatement. But the hot water is going, and we'll need to move the second act to your bed." He pulled out and tossed the rubber into the trash then they both rinsed and shut the water off.
"I want to look at your face anyway." Jeff ran the towel over his body then snapped it against Reese's ass. "On my bed, face up with knees bent, please."
"My, you're a bossy prat. But I'll do it, because I'm as anxious for your cock in my ass as you are."
Jeff followed him to the bedroom and tossed back the covers as his lover fell into place. "Not possible. I'm about ready to explode. Hope you don't need much foreplay."
"Just a squirt of lube and a finger, luv. My ass can take it."
He managed a bit more stretching than that, but Jeff was so hard he thought he'd burst if he didn't get relief soon. He donned the rubber, greased his shaft and slid it home in a few quick movements.
"Blimey, what a stonker!" Reese grinned. "That means huge, lover. Long and hard and gorgeous, my new favorite plaything."
Jeff gritted his teeth to keep from blowing too soon. The slick hole sucked him in and soon he couldn't hold back. "Coming," he groaned, and lost it. Wave after wave of pulsing spunk filled the latex in Reese's tight ass. He pumped as long as he could then dropped on top of his man, planting a light kiss on his lips. "Perfect. Thank you."
"Thank you. It was perfect, just like the next one's going to be." Reese smiled. "You didn't have plans for the weekend, did you?"
"Yeah, I did. Fucking you morning, noon and night, and again in the morning. Maybe again at noon and night too."
"Good." Reese sighed with pleasure. "Exactly what I was thinking. See? We are a good fit."
What you own copy of Taylor's Task? Just click on the link!